Just use Scraps and image from Little Miss Muffet Stamps!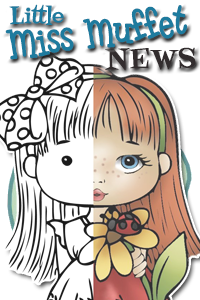 This week I tried a new technique, using acrylic paint with my embossing folder that I found here:
YouTube
I watched this video a couple of times then sat down to give it a try myself. She suggests using watercolor paper, I don't have any so I went with plain cardstock. I found that I was adding either too much water to the paint or putting it on the folder too thick, it took a few tries to get it right. The less busy the folder is, the better your results.
Image from Little Miss Muffet Stamps
Ribbon (my ribbon came from my Create and Craft TV blog hop prize, the ribbons were wrapped around my prizes)
Embossing folders (Cuttlebug Argyle, Darice Flower Frenzy and eBosser Delicate Dots)
I used up 4 scraps this week, I need to use a up a whole lot more, they are taking over my craft room.
I colored my image with my colored pencils then sat down with my paints and Darice Flower Frenzy embossing folder. I painted the folder and inserted my white cardstock, pressing the paint onto the paper.
I used my Cuttlebug Argyle folder on the pink paper and the eBosser Delicate Dots folder on the blue card base.
I backed my image with a piece of chipboard (old Ritz cracker box) and added an Action Wobble to it.
No sentiment yet because I haven't decided what to use it for.
Here are all of the stops along the hop:
Kathy Up In the night with Kat.
http://www.upinthenightwithkat.blogspot.com/
Sue's Paper Crafts
http://suek86401.blogspot.com/
- YOU ARE HERE
Designs By Sammy
http://designsbysamm

...

y.blogspot.com/

LJ Creations http://www.ljcreation.blogspot.com/
Jenscrapstoo http://jenscrapstoo.blogspot.com/
Laura http://laurascreativeworld.blogspot.ca/