HIMCR #175 - Any Holiday!
This can be ANY Holiday! Take this time to get caught on past Holidays or if you're like me it's past time to bang out some much needed Christmas cards!!
The sponsor is Serri Baldy's My Besties!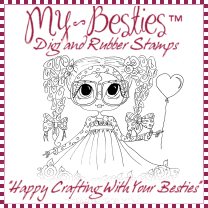 This little girl is so cute that I couldn't resist her.
I used both colored pencils and Souffle pens to color her. The card base and oval were printed and cut with my Cricut Imagine using one of the papers from Christmas Wish, the card is from Just Because Cards.
I ran the oval through my eBosser using my Delicate Dots folder. It didn't print quite right so I added some chunky glitter to the area that wasn't right. I used foam pads to adhere both the oval and image to the card. I added a piece of blue ribbon near the folded edge and blue jewels to the opening edge.