The sponsor is My Besties!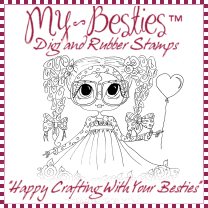 The giveaway is 4 preselected digital images!
My desktop computer died on me so I do not have a way to print up the digi images for this week's challange so I went rogue and pulled out my quilling supplies.
On the blue card I used ribbon for the flower stems and pleated ribbon on the edge.
On the orange/yellow card I used ribbon along the bottom of the front panel as well as the bow.
Quilled Creations Beginner's Quilling Kit and Combing Quilling Kit (orange/yellow card).
Ribbions, brads, sentiment stamp, fringing scissors.
Blue card measures 5" w x 6"tallh (when folded on side), front panel is 4.25" w x 5" tall.
Orange/yellow card measures 5" w x 7" tall (when folded on side), front pannel is 4.5" w x 5.25" tall
Card fronts and yellow panel are all embossed with various folders from my stash.
I chomped all of the corners on the blue card and panel. The leaves are from Cricut's Mother's Day Bouquet Cartridge, flowers are from the beginner's kit, follow kit directions to quill and assemble 3 daisys.
The flower and huming bird on the orange/yellow card is from the combing kit, combing tool included when you buy this kit. Follow kit directions to make the hummingbird and flower.
Grass on blue card was cut from a scrap of green cardstock then I used my fringing scissors and curled the blades of grass.
All of the brads and ribbons are from my stash except for the pleated ribbon, I just received that as a part of a blog candy package of goodies from: Paperie Blooms, it's from Webster's Pages Designer Trim Collection.
I adhered the Bazill Basics blue panel to the front of the blue card with foam pads.
I took the prongs off of the ladybug brad on the orange/yellow card and adhered her with a foam pad.